Ich möchte mich von meinen Infinity Minis trennen, da ich das System eh nicht spielen werd.
Deshalb will ich hier auch alles komplett verkaufen. Deshalb auch der günstige Preis.
Mir wurde gesagt, das Zeug lässt sich gut und abwechslungsreich spielen. Ich kann das nicht beurteilen, bin nicht zum Spielen gekommen.
Ich finde die Minis toll, aber bei den ganzen Systemen werd ich hierzu wohl zuletzt kommen. Und man wird ja nicht jünger.
Hier die Liste
Die Minis hier sind OVP
1 x Combined Army Starter Pack (neu)
1x The Hungries - Gakis
1 x The Hungries - Pretas
1 x Comined Army Starter Pack (alt)
Die hier sind nur gebaut. Manches noch nicht ganz. Ich hab alles in Einzelne Tütchen verpackt, damit nix durcheinander kommt. Natürlich alles komplett.
1 x Shasvastii Expeditionary Force (Shasvastii Sectorial Army)
1 x Agent Cadmus-Naish Sheskiin
1 x Med-Tech Óbsidon Medchanoid (Doctor, Engineer) (1)
1 x Noctifers (Missile Launcher)
1 x Noctifers (Spitfire)
1 x Zerat Special Missions Reg. (Hacker)
1 x Shasvastii Light Support Unit Haiduk (Sniper)
1 x Shasvastii Corax Spec-Op 1 x Seed Soldiers (Combi Rifle) (2)
1 x Seed Soldiers (Combi Rifle, Combi 1 Rifle + Light GL)
1 x Shasvastii Cadmus (Boarding Shotgun)
(pictures or it didn't happen)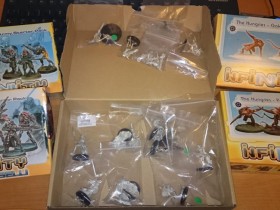 Neupreis für alles wäre 295€. Mein Vorschlag wäre 175€ inkl. Versand (in Deutschland).
Ich freu mich wenn ich sie an jemanden abgeben kann.
Gruß
Sidney