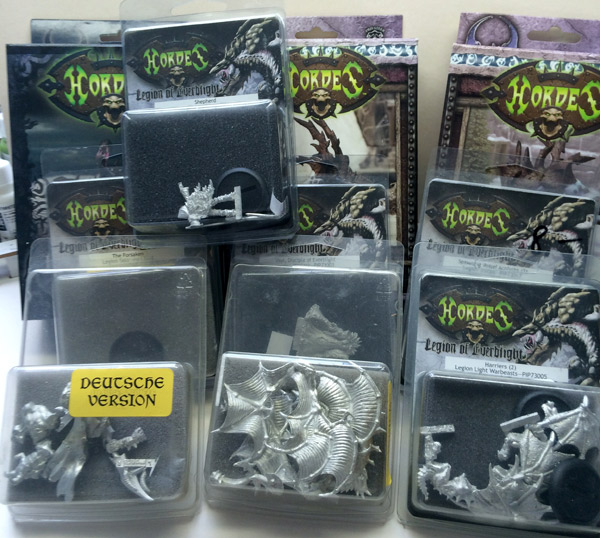 Ich hab einige Legion Minis abzugeben. Persönliche Abholung ist möglich, Versand ist aber auch kein Problem.
Alle Figuren sind Metall, fast alle original verpackt und nicht zusammengebaut und unbemalt (außer bei den Archern). Bei allen Minis sind die Karten dabei, die sind aber aus älteren Editionen.
Preisvorstellungen findet ihr unten, bei Fragen einfach melden.
Thagrosh (Warlock): EUR 7,-
Vayl, Disciple of Everblight: EUR 4,-
Carnivean (Heavy Warbeast, aus der Grundbox, ohne Verpackung): EUR 15,-
Ravagore (Heavy Warbeast): EUR 20,-
Typhon (Heavy Warbeast): EUR 20,-
Scythean (Heavy Warbeast): EUR 20,-
Seraph (Light Warbeast): EUR 7,-
Harriers (2) (Light Warbeaszs): EUR 4,-
The Forsaken (Solo): EUR 4,-
Shepherd (Solo): EUR 4,-
Spawning Vessel Acolyths (2): EUR 3,-
Nyss Archers (8 unbemalt, 2 teilbemalt): EUR 10,-
Legion of Everblight Dice (die in der Alu-Dose, von Galeforce 9): EUR 15,-
Post was edited 2 times, last by "gnorhk" ().